Please Fill Out the Form Below
Grumman Studios is a provider of services and tools for the film industry. We do not offer jobs in film production, editing, nor the creative arts. Please contact the production companies directly for those types of inquiries.
Grumman Studios regretfully does not offer tours of our facility. Out of respect to our clients' need for closed sets, visits from the public must be arranged by the production companies directly. Thank you!
Directions, Transportation & Boarding
Via Manhattan – 45 Minutes
Interstate 495/Long Island Expressway/Manhattan/Eastern Long Island
Take exit 10E on the left toward Riverhead
Follow signs for I-495 E and merge onto I-495 E
Take exit 41S toward NY-106 S/NY-107 S/Hicksville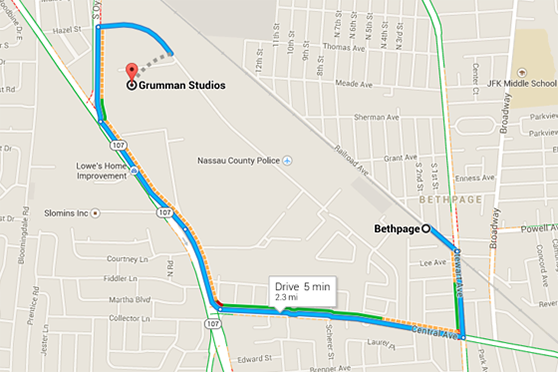 Belt Pkwy in Queens
Take Southern State Pkwy to Wantagh. Take exit 28N from Southern State Pkwy
Follow NY-27 W to County Rd 111 in Eastport.
Take exit 62 from NY-27 W
Follow I-495 W to N Service Rd in Melville.
Take exit 48 from I-495 W
Follow Old Country Rd and S Oyster Bay Rd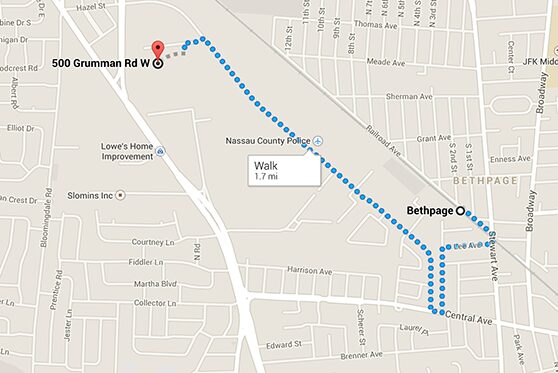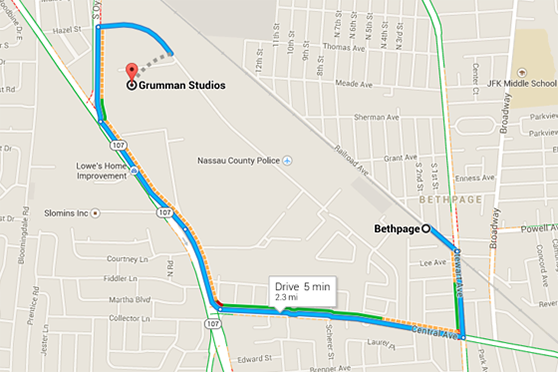 Via Other Parts of Long Island
Follow I-495 W to N Service Rd in Melville.
Take exit 48 toward Round Swamp Rd/Old Bethpage/Farmingdale
Follow Old Country Rd and S Oyster Bay Rd
Other Modes of Transportation
Helicopter Charters AAG – Associated Aircraft Group
Other Transportation Info
Brasserie Cassis
Bryant & Cooper
Café Testerrosa
DeBello's
Il Mulino
Taste 99
Croxley's Ale House
The Dark Horse Tavern
Library Café
There are a number of excellent hotels in the area: